Last month my daughter moved out.  Two down, one to go.  Yahoo!!!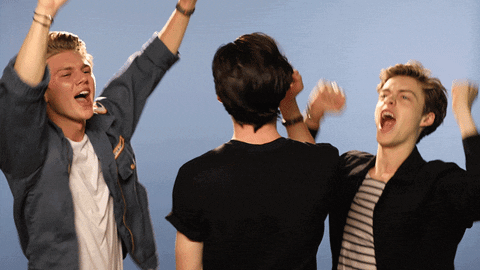 I have to laugh at myself, though.  There was a time when the thought of my children moving out was unimaginable.  I didn't want my babies to leave…ever.  Even as they began to enter the teen years, I didn't think I'd ever be ready to let them go.  And I always thought any parent who couldn't wait for their child to leave was cruel.
Ask me if I feel the same way today…go ahead…ask.
Here's the thing about the way I used to feel…yes, those feelings were based on my love for my children.  But they were also rooted in how my identity was so connected to them that I couldn't possibly imagine being someone other than a mom.  Don't get me wrong—not that I thought my mom title would be taken away.  I just knew it was going to be different and I wasn't sure how to feel about that.
It's interesting how the "what we do" becomes the "who we are."  The way we sometimes place our identity in the doing and not the who-ing (yes, I made that word up).  The idea of my role changing as a mom was quite honestly, a bit frightening.  Trying to imagine a house no longer filled with noise but silence.  The thought of no longer being needed, when all I'm used to is meeting needs.
Who would I become if I wasn't mom?
Getting to the place of realizing I'm more than mom hasn't been easy.  I don't need to become anyone because I already am the person I've always been.  My role as a mom is just one facet of my life.  There is so much more to me than that.
And really, this is a chance to celebrate a new season of life—not mourn for what will no longer be.  I will always be a mom but the way that looks is going to be different.   Different isn't bad.  In fact, different can become something quite wonderful.  And that's exactly what I'm discovering in this time that I once dreaded.
I'm relishing in the near empty nest season of live I'm in.  It's not only rediscovering myself but there is a revival of my marriage, friendships, interests and passions.  Life has slowed down and I'm learning to enjoy its leisurely pace.  There's more time to pursue those things I've always wanted to do and unearth new interests.
Children aren't the only way our "what we do" becomes "who we are."  This can happen with our jobs, relationships, interests and anything else that becomes our identity.  It's not really a problem until that thing (or person) is no longer a part of our lives.  When that job ends, the relationship deteriorates or the thing we most loved doing is no longer possible…it can stir up uncertainty, fear and unrest.
The only way to truly avoid this pitfall is to remember that our identity as a follower of Christ should be found in Him.  Not in our spouse, our children, our pursuits, or this world.  When "who we are" is wrapped up in Christ, we won't be shaken by the negative events of this life.  Fear won't have a place in our hearts and we won't have to be concerned about the future.    We will always know who we are when we're in Christ.
It goes back to the beginning in Genesis 1:27, when God created man in His own image, in the image of God He created them, male and female He created them.
The "what we do" is the outward, earthly stuff that we get to enjoy on a temporary basis.  The "who we are" is the spirit of God inside us, the heavenly blessing that lasts an eternity.
So…do I feel the same way I once did about my kids leaving home?  Oh, heck no!  Do I better understand my identity?  Yes!  It's not what I do but who I am in Christ.