Things could be worse.
That kind of goes without saying.  Clearly, things can always be worse!  Although the intent is to help the person realize that others may have greater struggles, it doesn't magically erase the depression.  It's not like a lightbulb goes on that says, "Oh my goodness, you are so right!  Since things could be worse, I really have no reason to be depressed!"
It's important we don't compare people's pain.  For that person, the worse is not what could be, but what that person is experiencing in the here and now.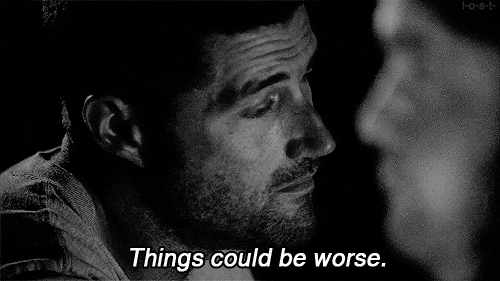 2. Can't you just snap out of it?
I'm pretty sure the majority of people suffering with depression don't choose it.  If they could, well then yeah, they would just snap out of it.  Our emotions don't always transform so easily.  Regardless of the source of the depression, deciding to not feel that way just doesn't work.
3.  If you…then you would feel better.
If you took these vitamins…followed this diet…gave up this thing…focused on the positive…
Well, then you would start to feel better and no longer struggle.  The reality is that a positive mindset, a healthy diet, physical exercise and adequate sleep can definitely impact one's mood.  But they aren't the only solution.  Oftentimes people struggling with depression have deeper issues that need to be tackled.  We can't make it sound so simple, that just by doing this one thing, you will suddenly feel like a brand-new person.
4.  What do you have to be depressed about?
On the outside it looks like a pretty good life.  There doesn't seem to be any good reason for the person to be depressed.  But depression isn't always a result of something in particular that happens.  The feelings associated with it don't have to be based on a reason.  They just are and they're quite real to the person struggling.
5.  Try harder to be happy.
Making an attempt to be happy is like trying to put toothpaste back into the tube.  It can't be done.  You can try with all your might but it won't work.
It's important to remember that happiness is generally circumstantial.  So, when circumstances change, our level of happiness fluctuates.  The goal of gaining victory over depression is not to become a happier person, but to experience a deep inner joy.